Sang Hoon Degeimbre
L'Air du Temps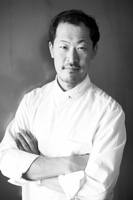 At the age of five, Sang Hoon Degeimbre was adopted with his younger brother into a large Belgian family with eight other children. By the age of 14, Degeimbre had discovered his love of cooking, and preparing meals for his family not only trained him in the practicalities of cooking for large numbers, but it also ignited his desire for further education.
Degeimbre enrolled in hotel school but soon found it wasn't what he was looking for, so the ambitious young culinarian went on to intern at catering companies and supported himself by working in the wine cellars of local restaurants, where he discovered a passion for wine as he continued to enhance his culinary technique. Degeimbre soon found himself a wine director, and his résumé began expanding with stints at La Truffe Noire in Brussels; Petit Versailles in Gosselies; and La Salicorne, La Hulpe, and L'Eau Vive in Arbre.
In 1997, Degeimbre was finally ready to return to the kitchen to open his own restaurant, L'Air du Temps. Though he knew it was an enormous risk to return to the kitchen after so long and without formal chef training, Degeimbre focused on his own developed philosophy to give the restaurant credibility and direction. It's a philosophy that combines high-concept cuisine, local ingredients (many from the restaurant garden), and innovative use of technology like sous vide, ultrasonic devices, immersion heating, and even ultrasound. Not surprisingly, wine plays a heavy role in the overall experience. With this philosophy driving him, Degeimbre has gained critical acclaim as he continues to push conceptual boundaries in a seamless, inspiring marriage of Belgian and Korean cuisine.