Torino
Il coCreationcamp di Torino é organizzato da Wallonie-Bruxelles Design/Mode (WBDM), Architempo e la Camera di Commercio di Torino, in collaborazione con Wallonie-Bruxelles International e Bold srl, nel quadro del progetto europeo EDEN EcoDesign Network (finanziato da Cross-border Cooperation Program Interreg-Alcotra), all'occasione del salone del design autoprodotto Operae.
09:30 Apertura e introduzione di Alok Nandi
09:45 Approccio co-creativo:

Mark Vanderbeeken,

François Jégou

10:30 Casi di co-creazione e relativi strumenti: Alain Berteau, Marcia Caines, Fabrizio Valpreda, Federico Capeci
12:30 Pausa pranzo e networking
14:00 Workshop sulla co-creazione
16:00 Rinfresco e networking
16:20 Risultati: la co-creazione nell'autoproduzione / eco-design
17:00 Chiusura "powered by PechaKucha"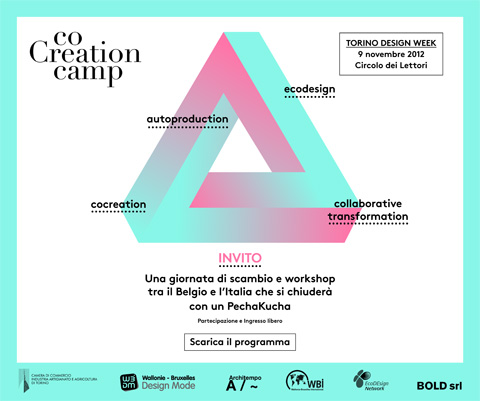 coCreationcamp è una serie di incontri internazionali in cui si combinano discussioni motivanti, sessioni di generazione di idee e workshop pratici. coCreationcamp è una rete di condivisione che coinvolge investitori pubblici e privati nonché persone creative ed esperti dell'innovazione, provenienti dal mondo del design, dal mondo accademico e dei think-tanks / do-tanks. La visione combinata di questi diversi attori consentirà di creare il prototipo di soluzioni innovative per espandere la gamma di pratiche incentrate sull'uomo. La combinazione di metodologie di innovazione e di un'attitudine iterativa aprirà lo scenario dell'innovazione attraverso lo scambio di best practice co-creative.
Participation in Torino coCreationcamp is on invitation – get in touch, should you wish to be involved. The coCreationcamp is conceived by Alok Nandi / Architempo. The executive production is coordinated by Architempo.