Food Transition
Welcome to the first info session of coCreationcamp Food Transition.
We are launching activities on October 16th 2022, World Food Day, in a World Cafe mode. This is a call for interest to stakeholders in food systems: it will allow us to gather themes and topics for a coCreationcamp Food Transition in Spring 2023. English or French or Dutch speaking conversations welcome.
Innovators & Entrepreneurs, join the conversations.
These coCreationcamp Food Transition activities are in resonance with the Bootcamp of Spring 2022 and the Meetups initiated by Free pour Entreprendre, in collaboration with Architempo. On October 16th 2022, we are meeting for an afternoon – 4 to 6 pm – to generate and explore the topics of interest to communities of food aficionados, be it entrepreneurs, makers, transformers, gardeners, cooks, … and of course eaters.
Registration is open – Join the conversations. Save the date – October 16th – 4 to 6 pm – and stay tuned for more information about the location and the logistics. Should you want to contribute, to partner, to support, do get in touch.
Other events to note and bookmark: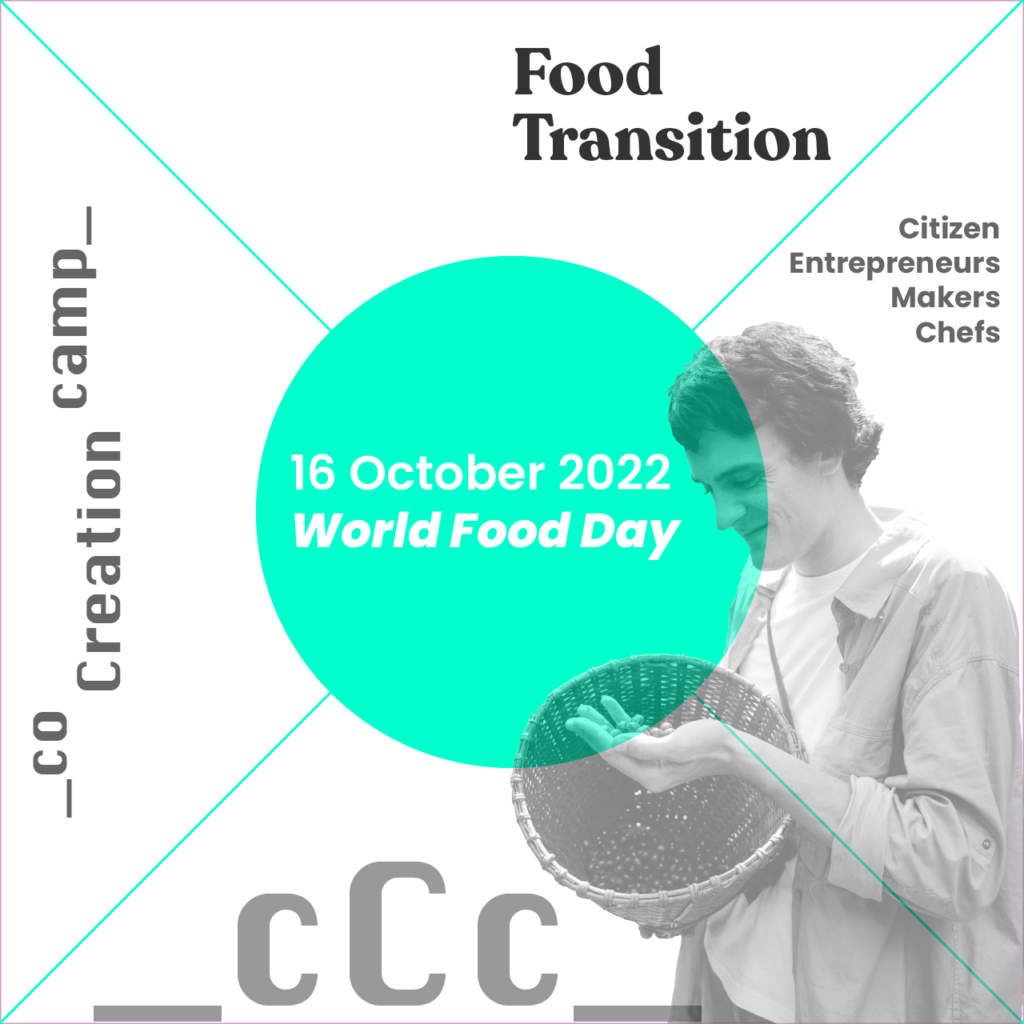 March 12th and 19th 2022 allowed to launch in Brussels a first series of activities on Food Entrepreneurship, with two days of "Food Transition alimentaire Bootcamp". We have been working with "FREE pour entreprendre" in structuring and presenting the program at Dinedit, See-U Brussels. It lead into a series of Food Transition Meetups (May 12th, September 8th, November 29th) and the coCreationcamp info session in preparation for October 16th, World Food Day / Journée Mondiale de l'Alimentation, will allow to gather stakeholders and the topics of interest for 2023.
Free pour entreprendre worked in partnership with Architempo and Dinedit, at See-U Brussels for the Bootcamp, and in collaboration with StartLab Brussels Solvay and Ichec, VentureLab Liège and Yncubator Louvain la Neuve.
Save the date of October 16th and stay tuned: information coming. To participate and to co-create, do contact coCreationcamp.